The WSAZ wrestling tournament brings out some of the best wrestlers in the state. Wayne County had a great showing at this year's meet. SVHS wrestler Connor McCann finished in 2nd place. Colton Mathis and Kayden Maynard of Buffalo Middle School finished 5th in their respective weight classes. Colton and Kayden are pictured with Head Coach Jeff Smith and Coach Josh Mathis. Congratulations!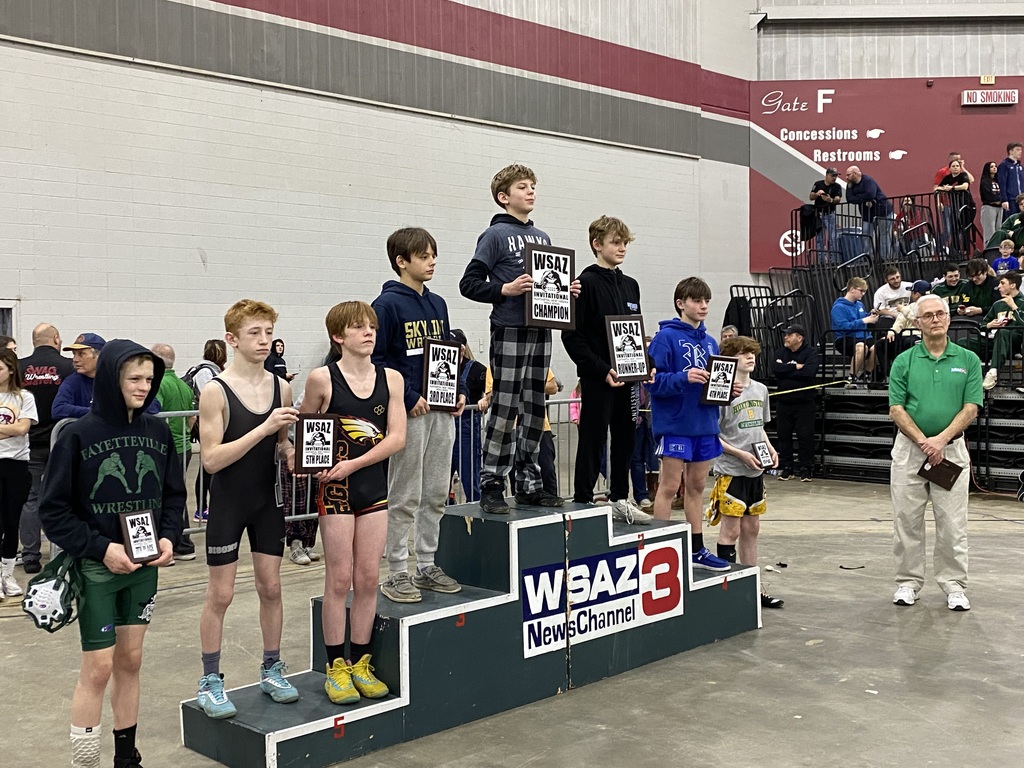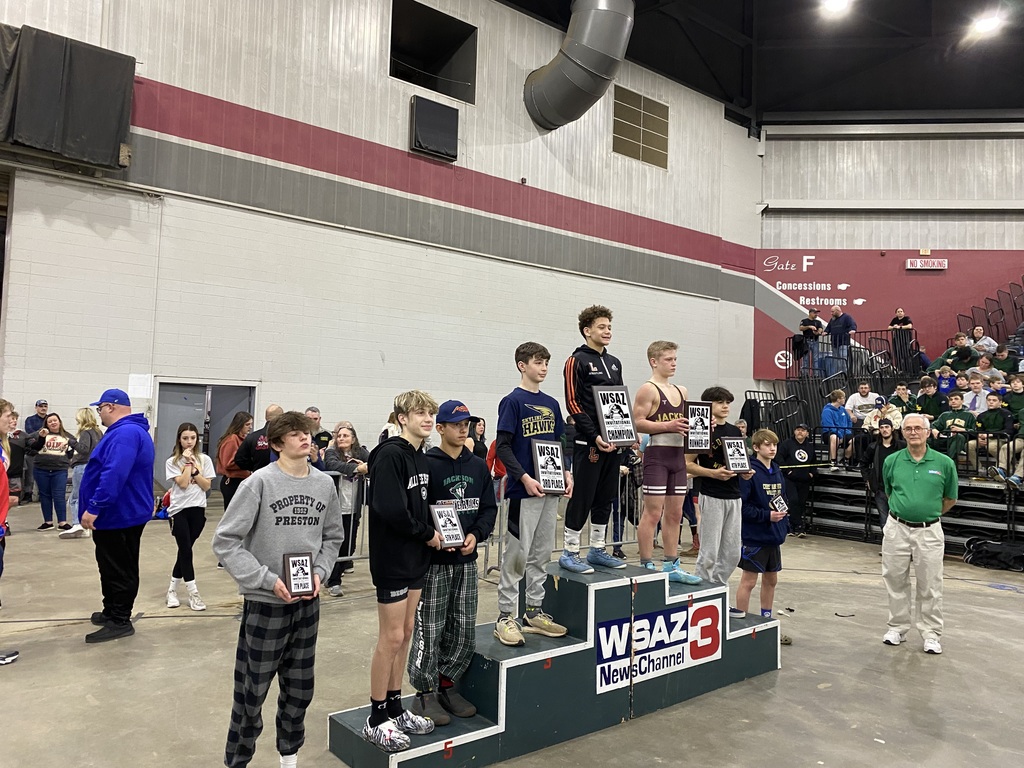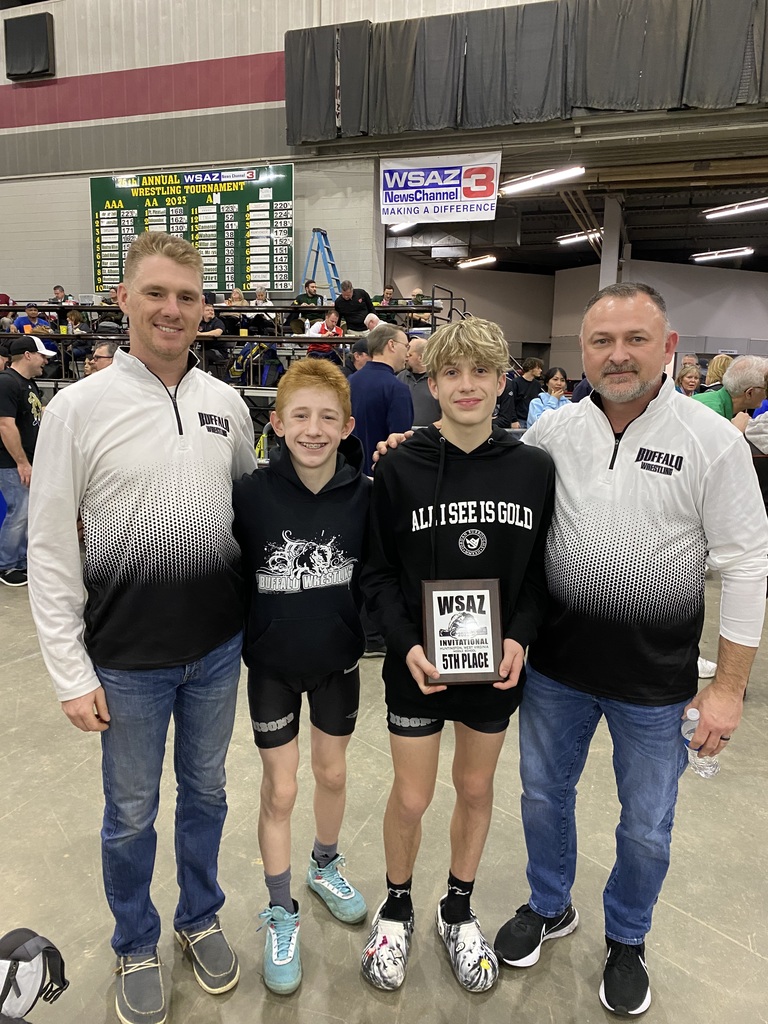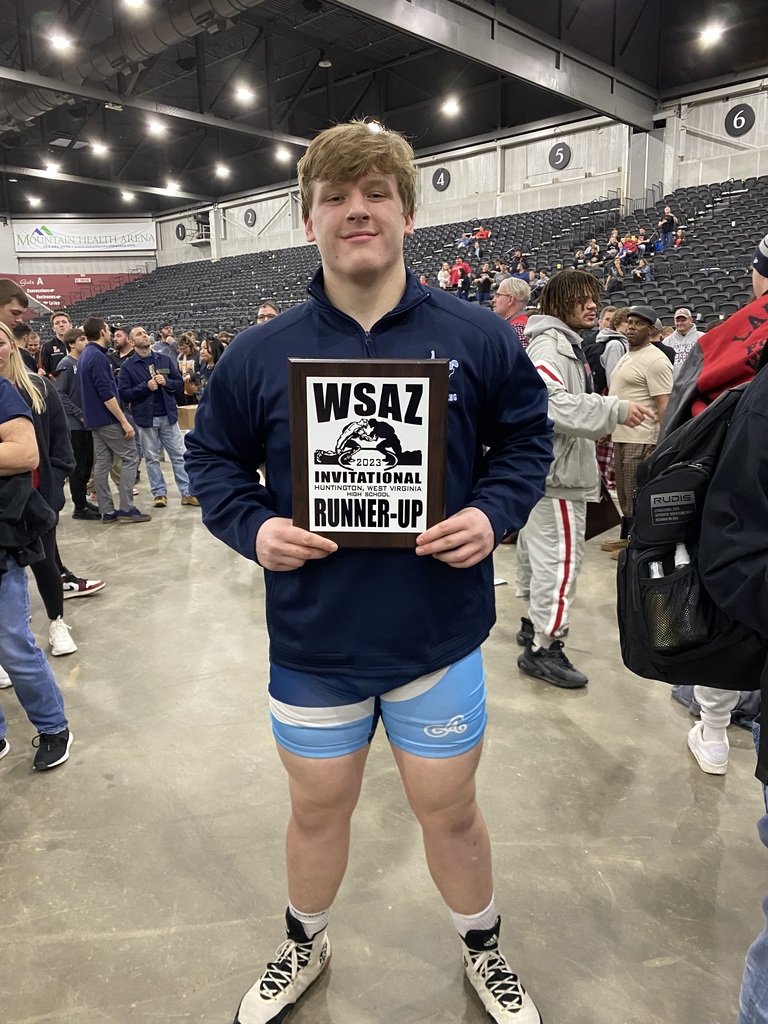 Student Recognition! Students from Buffalo Elementary, CK Elementary, Kellogg Elementary, Lavalette Elementary, Prichard Elementary, Buffalo MIddle, CK Middle, and Vinson Middle all exceeded the standard for the spring, 2022, West Virginia General Summative Assessment (WVGSA) for grades 3-8. Spring Valley High School students exceeded the standards for SAT School Day for 11th Grade! These students were recognized for a job well done at the WCSBOE meeting this week. Congratulations!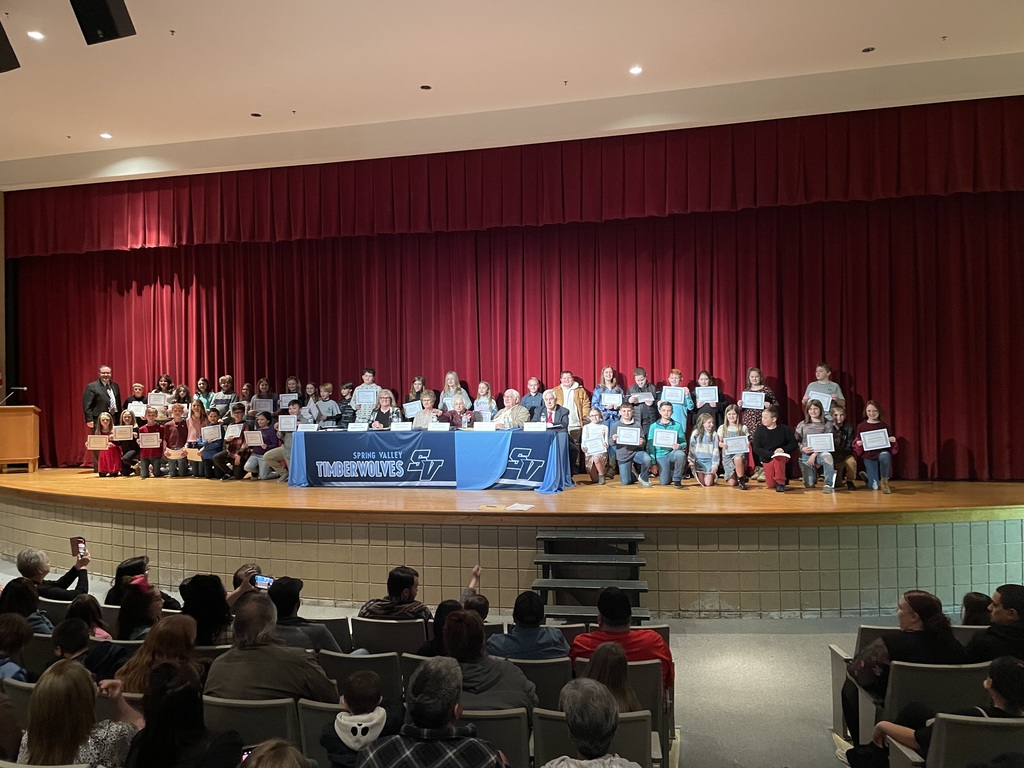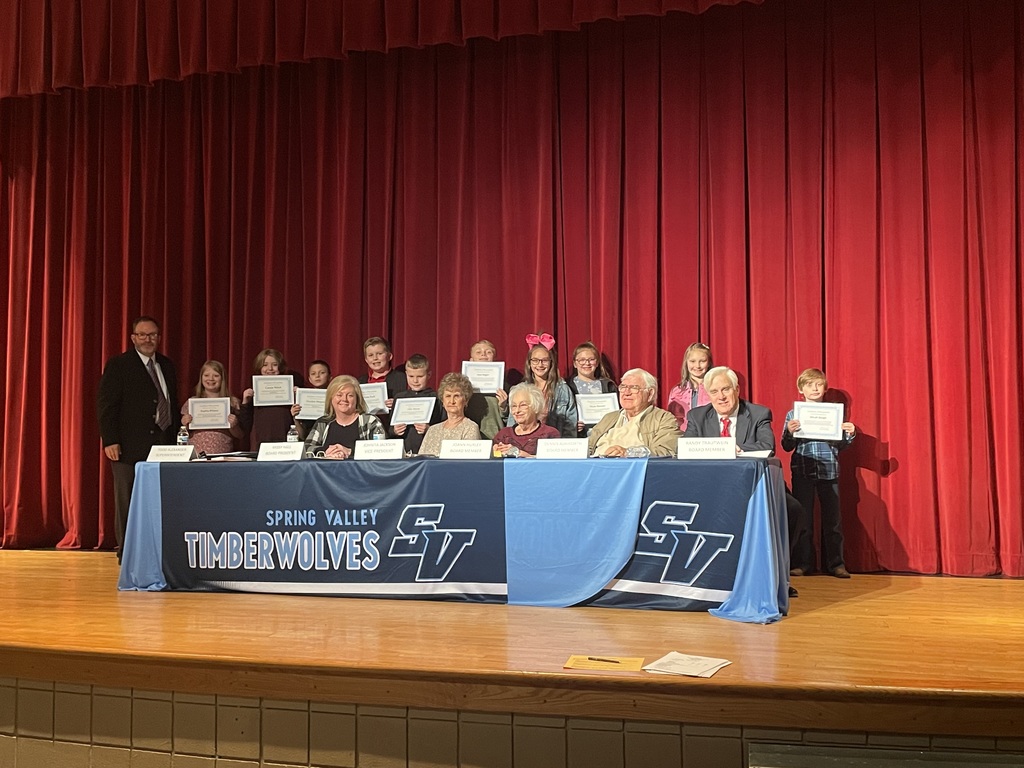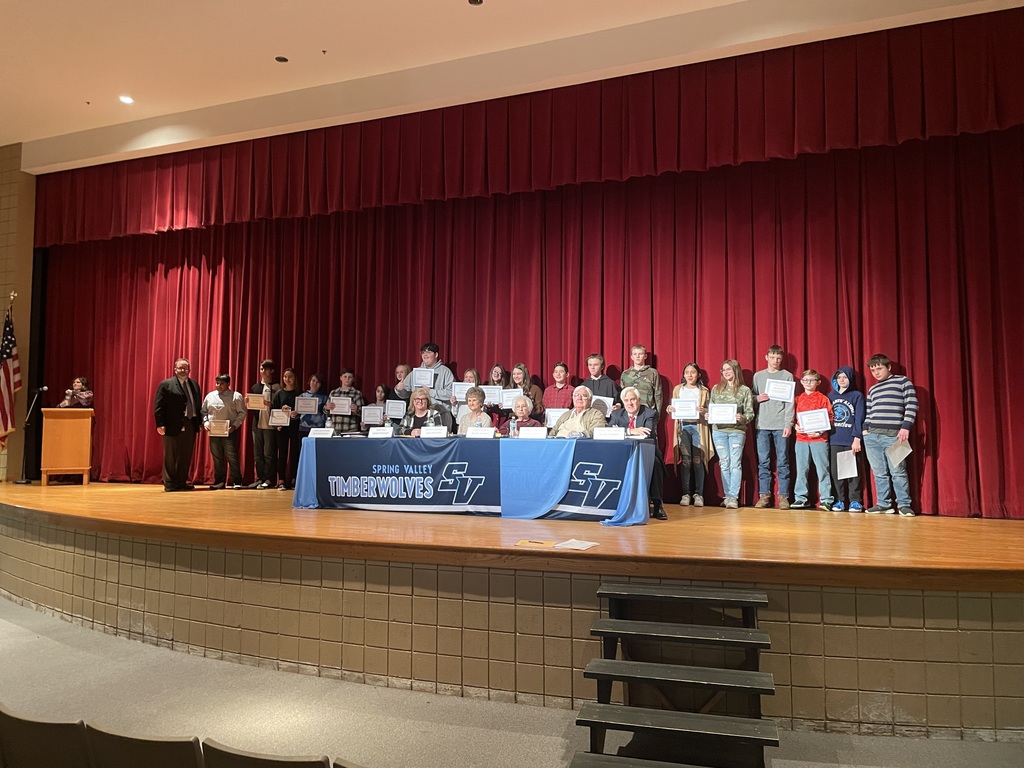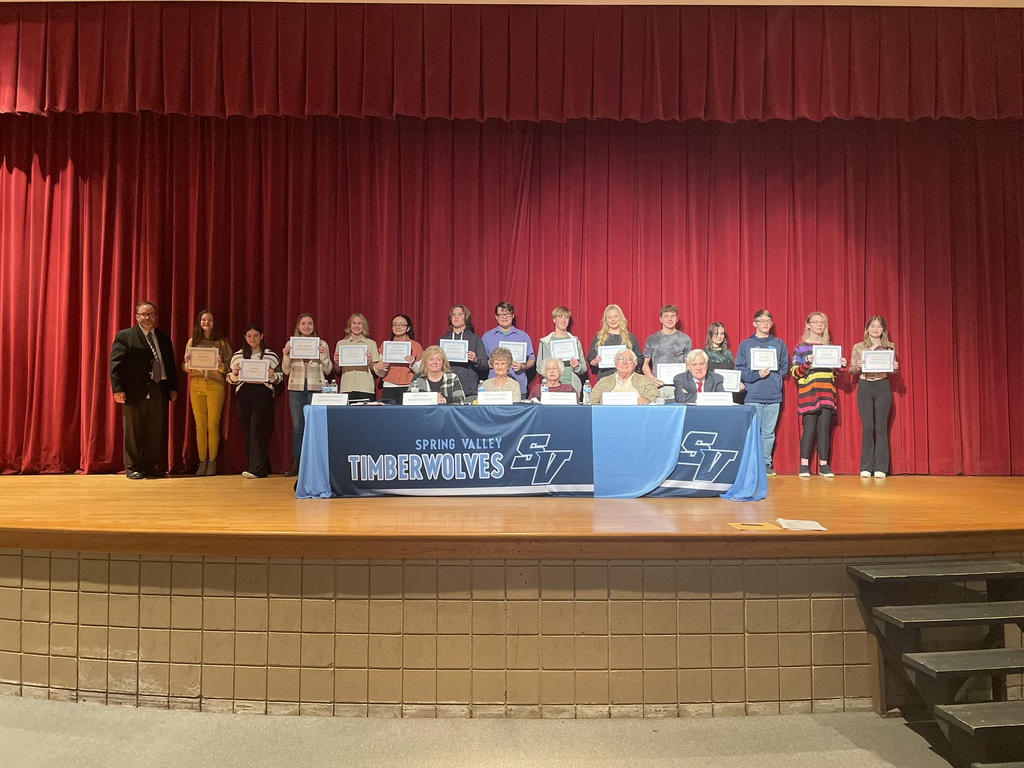 The West Virginia Department of Education hosted an academic showdown at Marshall University last Saturday. Wayne County was represented by Wayne High School and Spring Valley High School. The students competing did a wonderful job and made WCS proud! Way to go!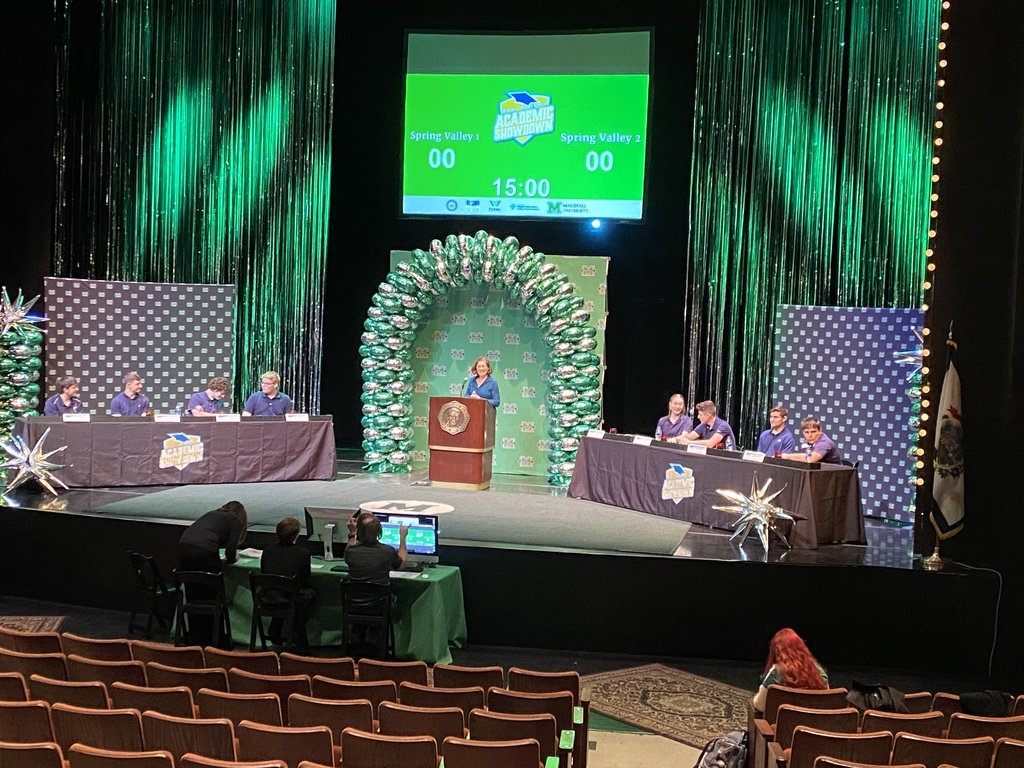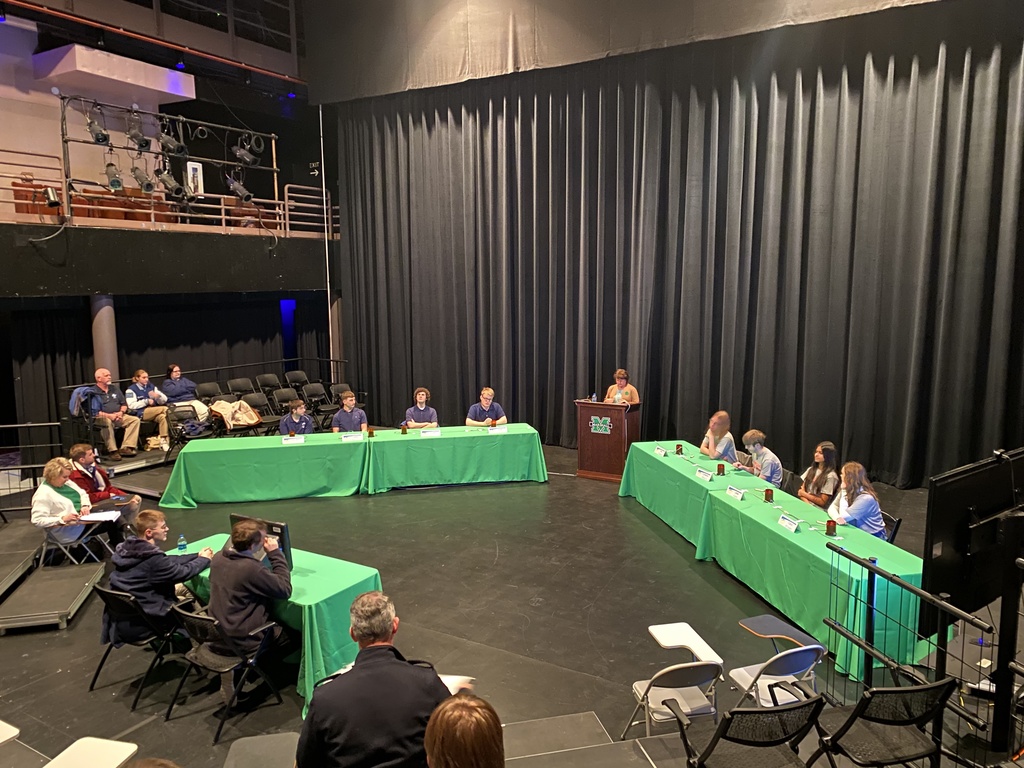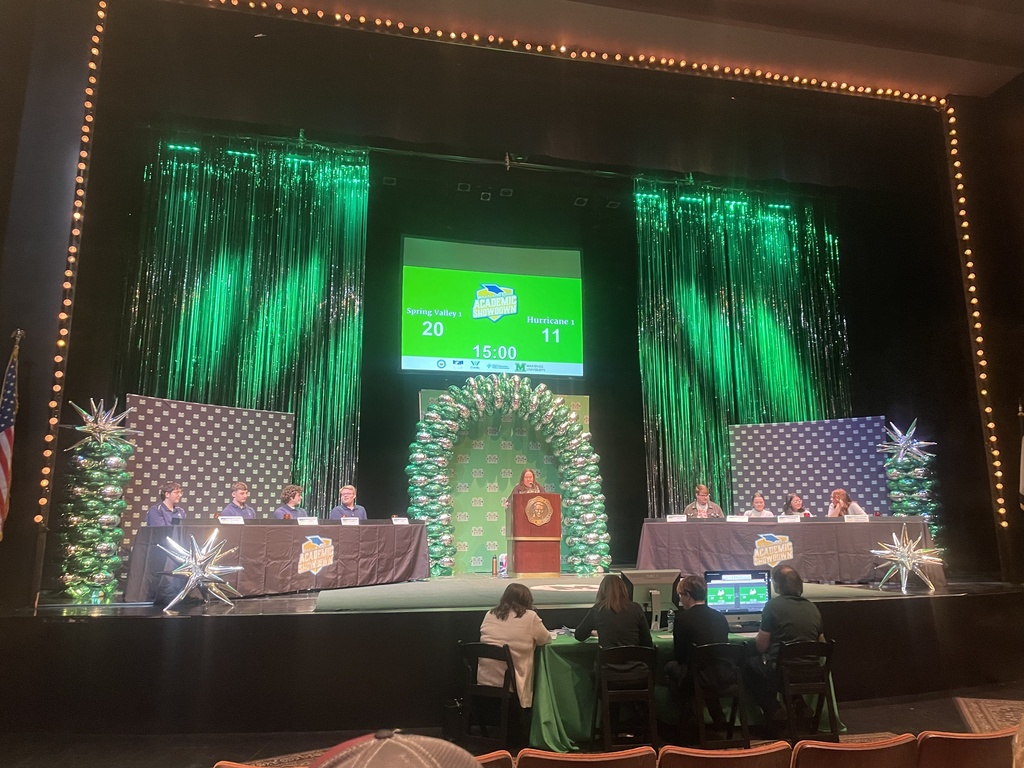 WCS Freshman! Don't forget to apply for the Wayne County Pledge! The deadline for the application is January 29th. Scan the QR code below or visit the district's website to get started.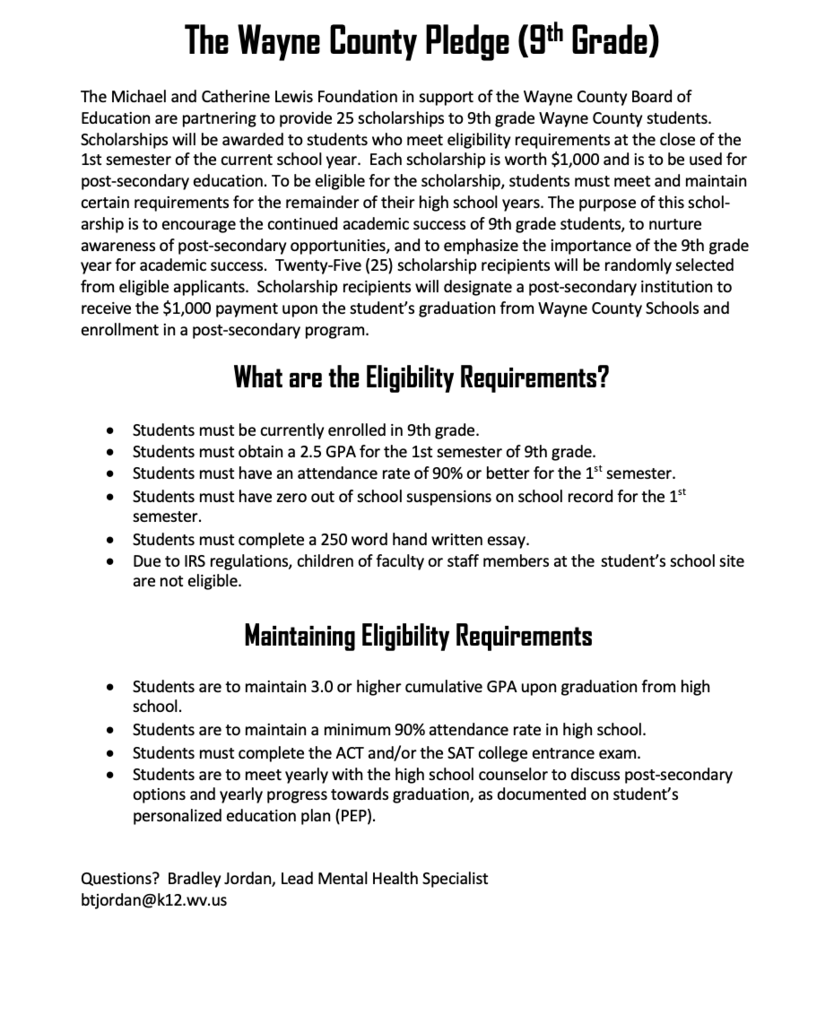 Due to no water, Genoa Elementary School will be closed tomorrow, 1/06/23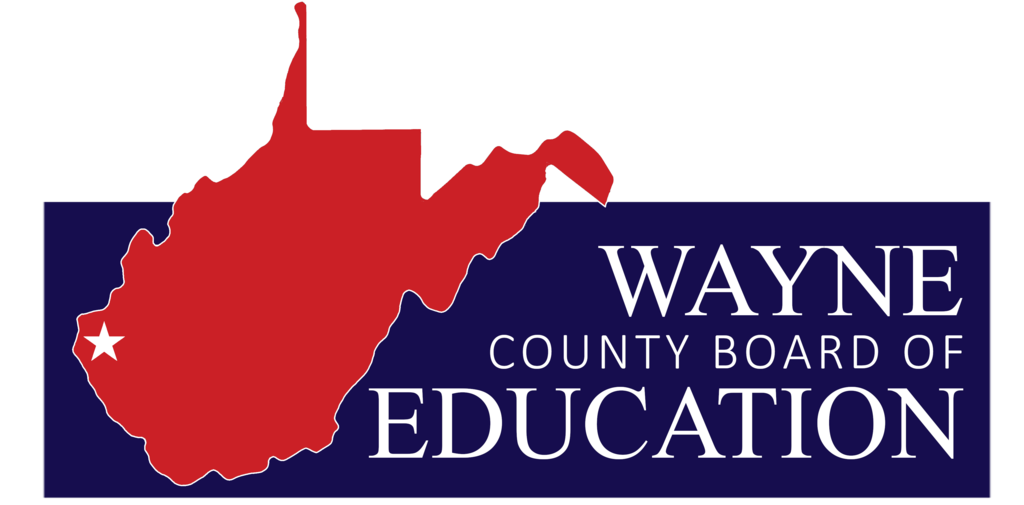 WCS Freshmen! Now is the time to get started on your Wayne County Pledge application. 25 Freshmen will be chosen for a $1,000 post-secondary scholarship. To get started, scan the QR code below or visit the district's website.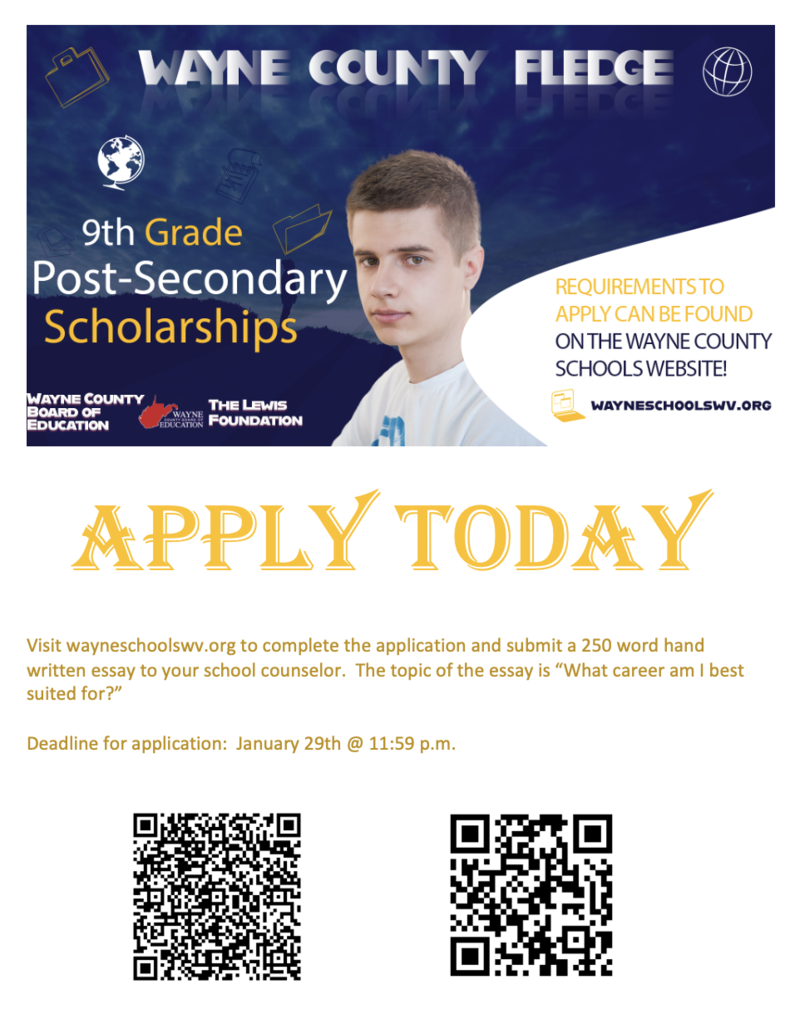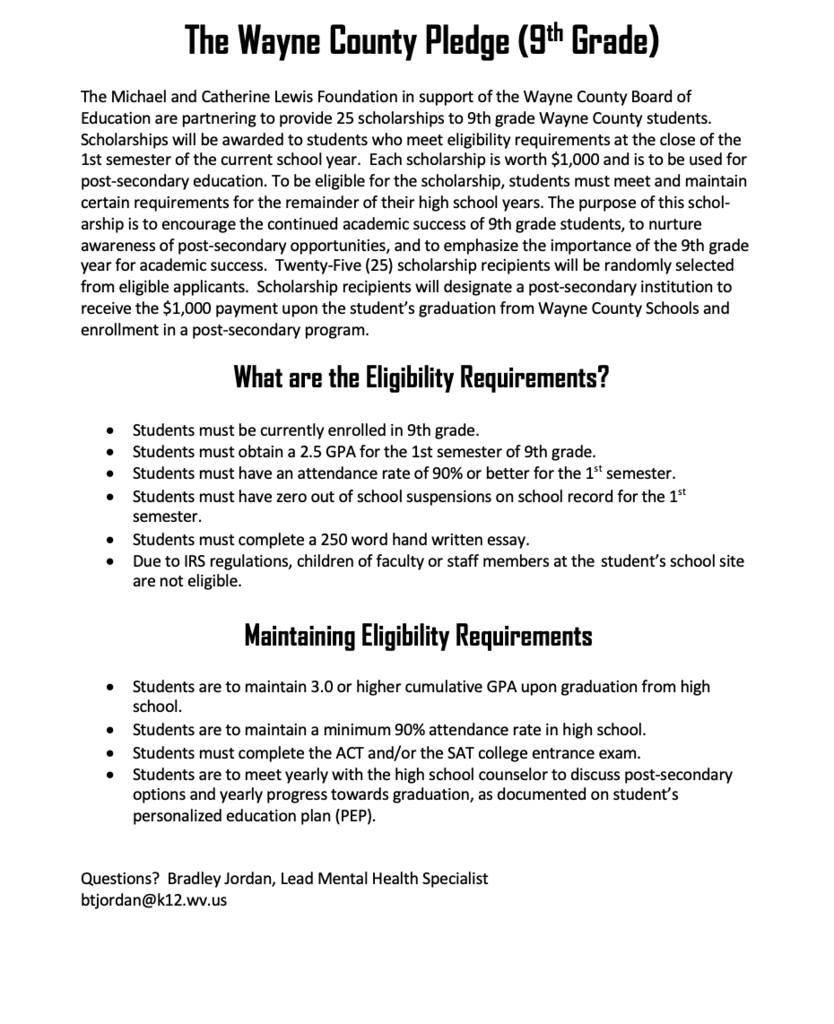 Due to no water, Genoa Elementary School will be closed tomorrow, 1/4/23.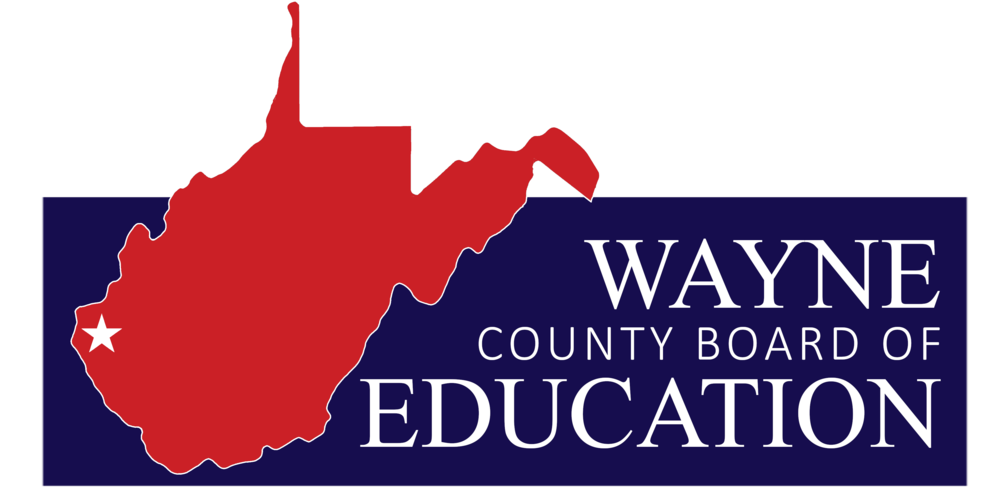 Before the break, Lavalette Elementary students took a look at how Christmas is celebrated around the world. The project was called, "Christmas Trees Around the World"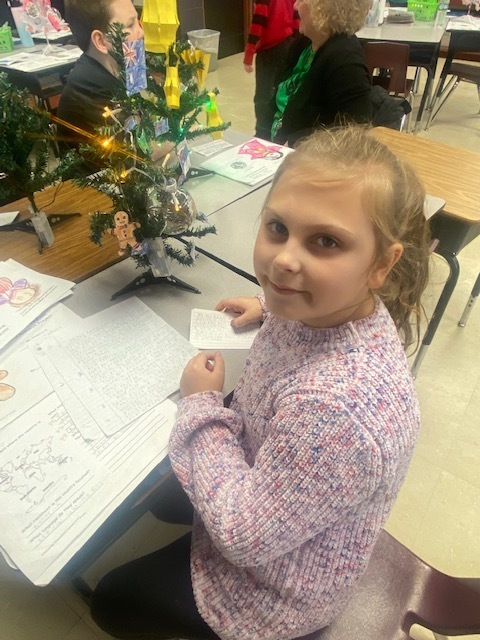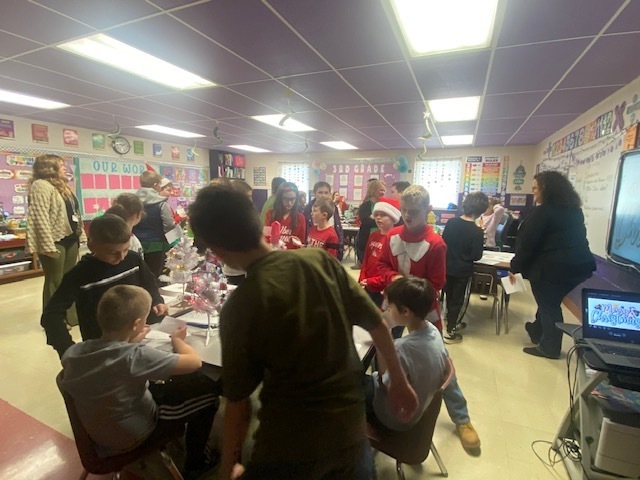 WCS Freshman! Start your application today for the Wayne County Pledge! Recipients of the Pledge will be awarded a $1,000 post-secondary scholarship. There will be a total of 25 9th graders chosen for the Wayne County Pledge. To get started and view the requirements, scan the QR code or visit the district's website. The deadline to apply is January 29th.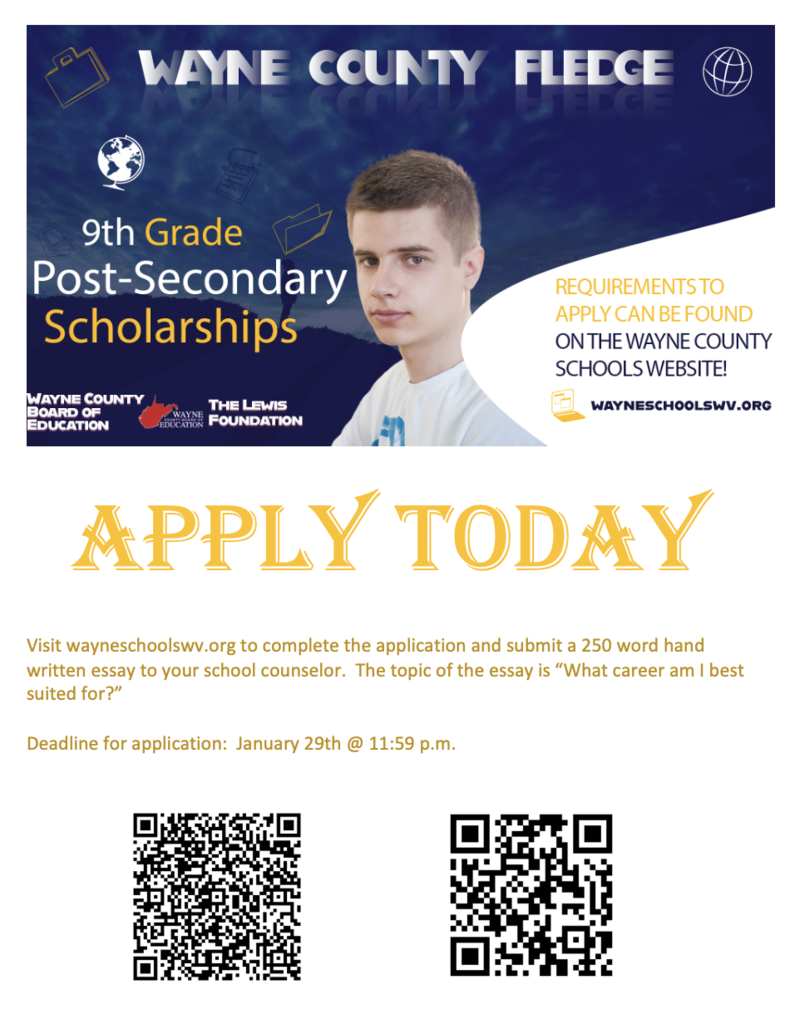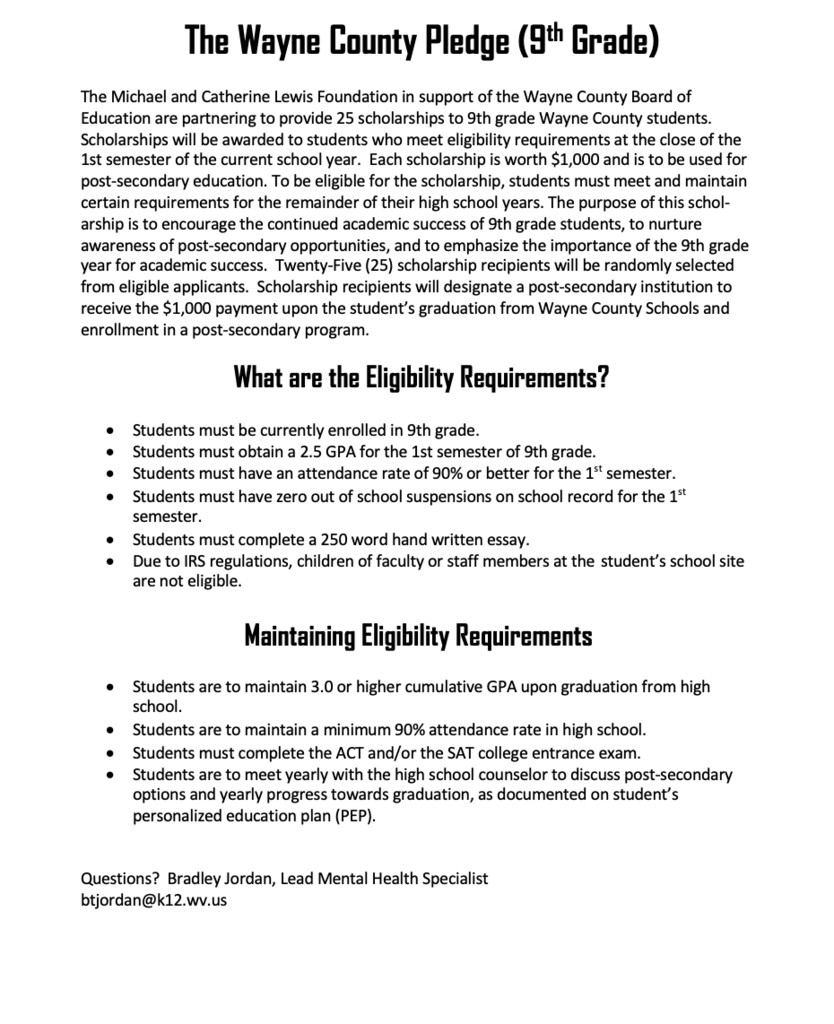 Jill Maynard's 4th and 5th grade split class at Genoa Elementary took home the top prize in First Lady Cathy Justice's Ornament Competition! Nice work!!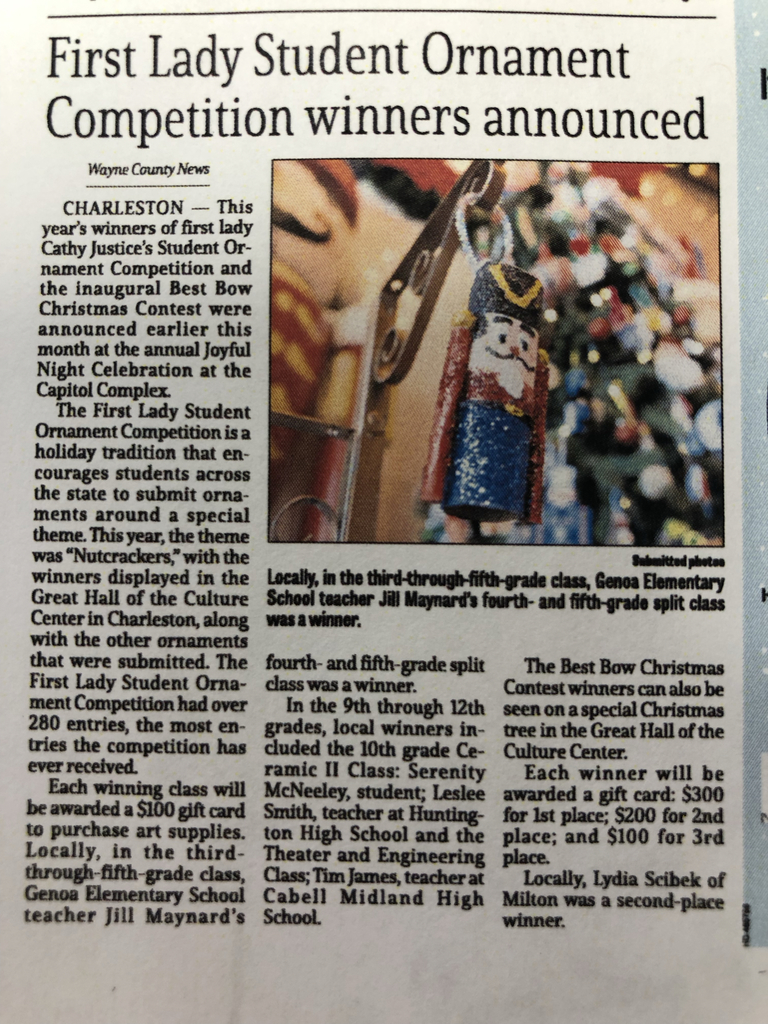 Some more photos from today's Pup Rally at Wayne Elementary!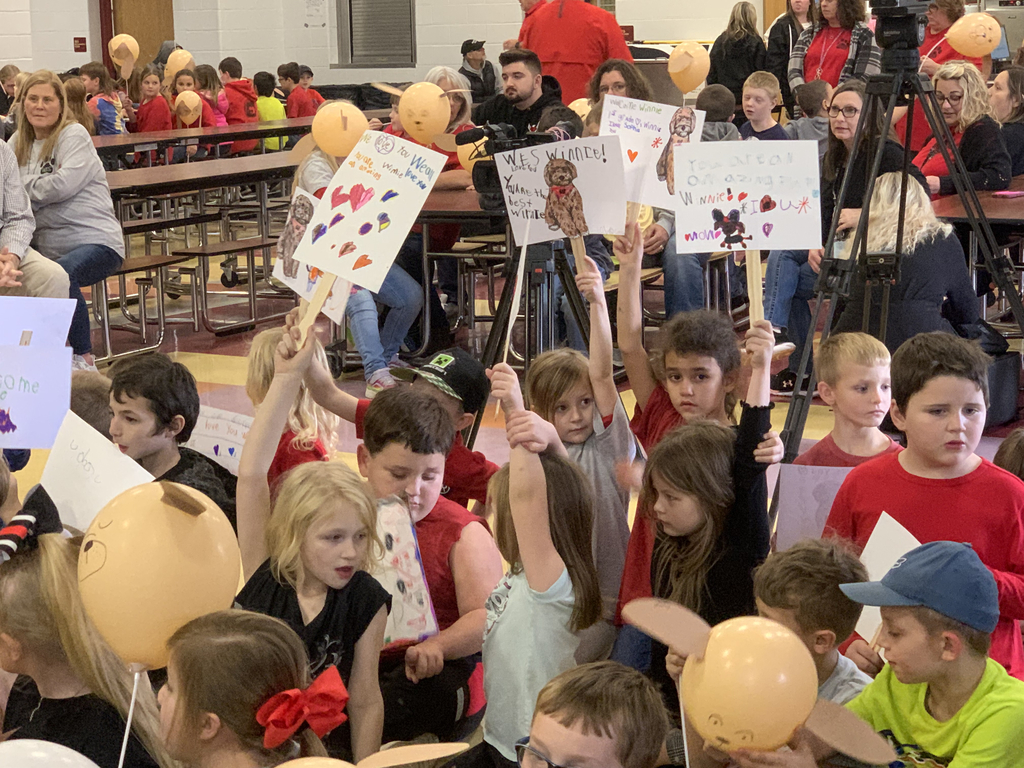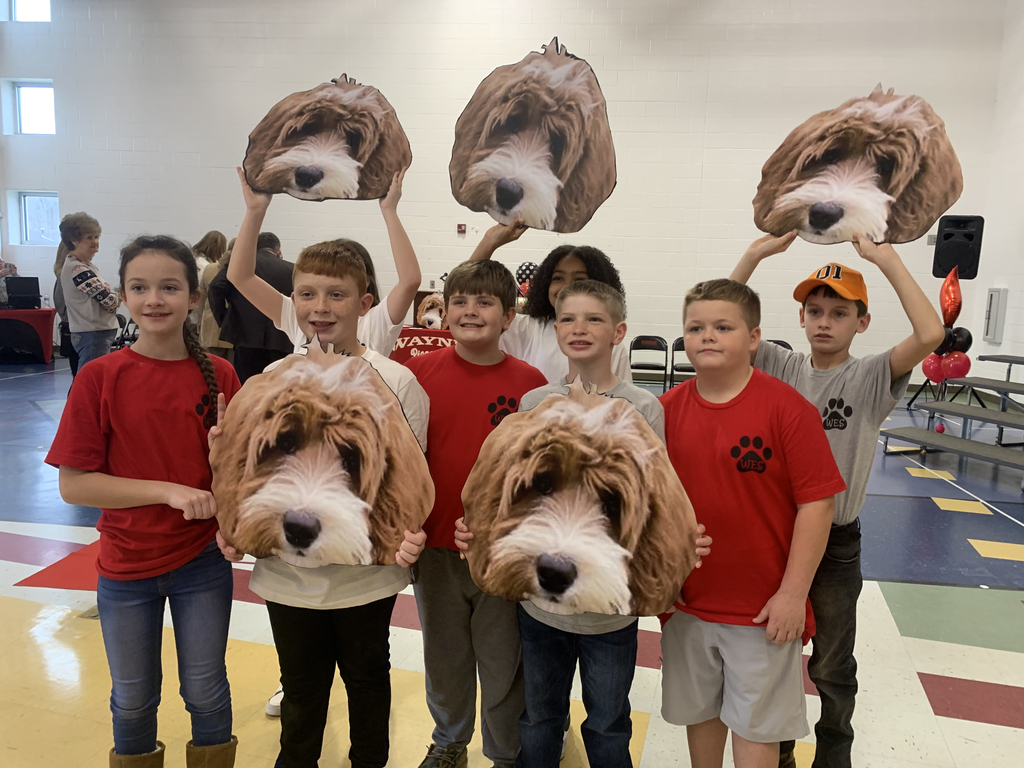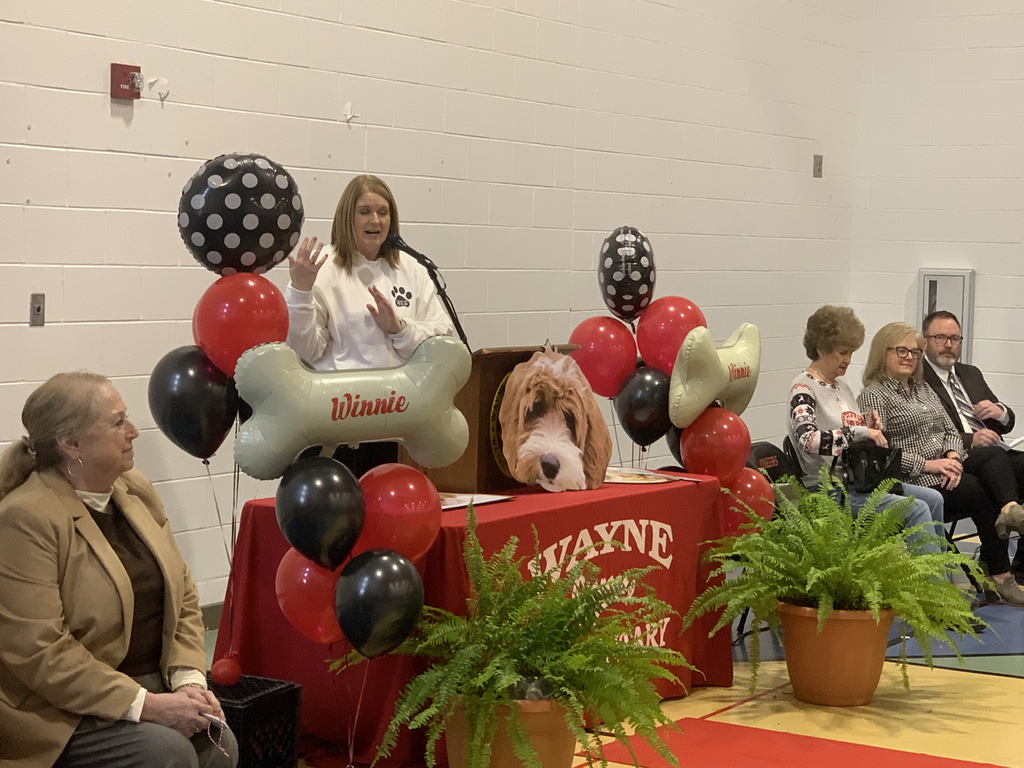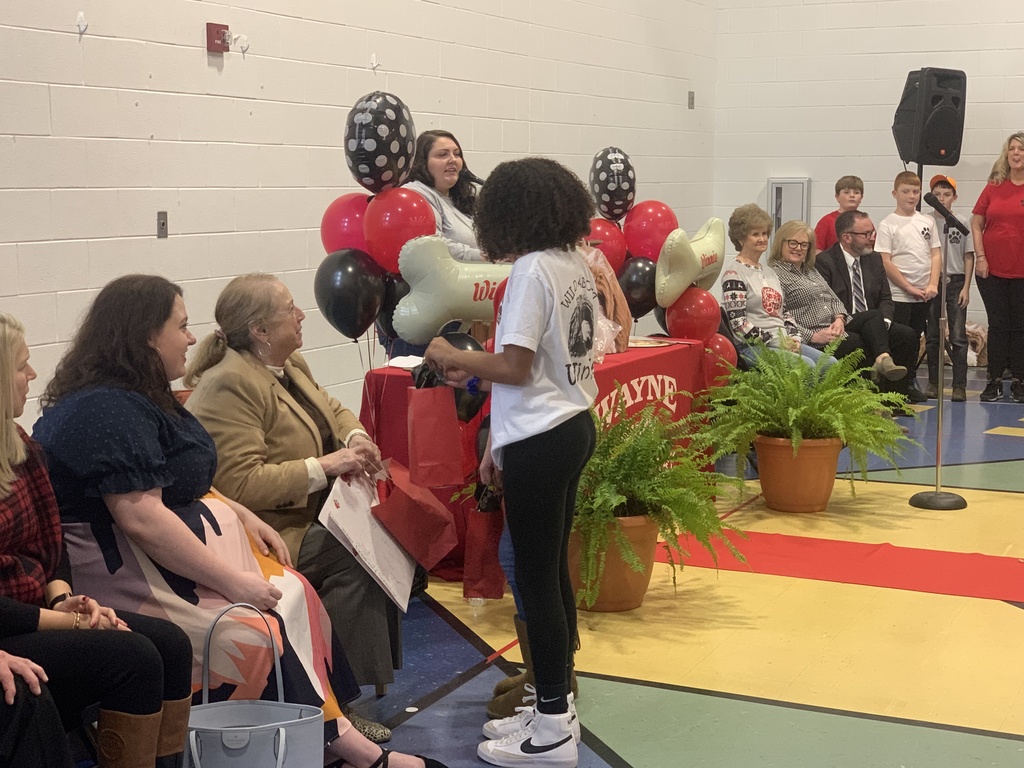 Wayne Elementary school was proud to host First Lady Justice today as they were introduced to Winnie, the school's new therapy dog. Thanks to the Communities in School's "Friends With Paws" initiative, Winnie will now be available to any student in need of a furry friend for support!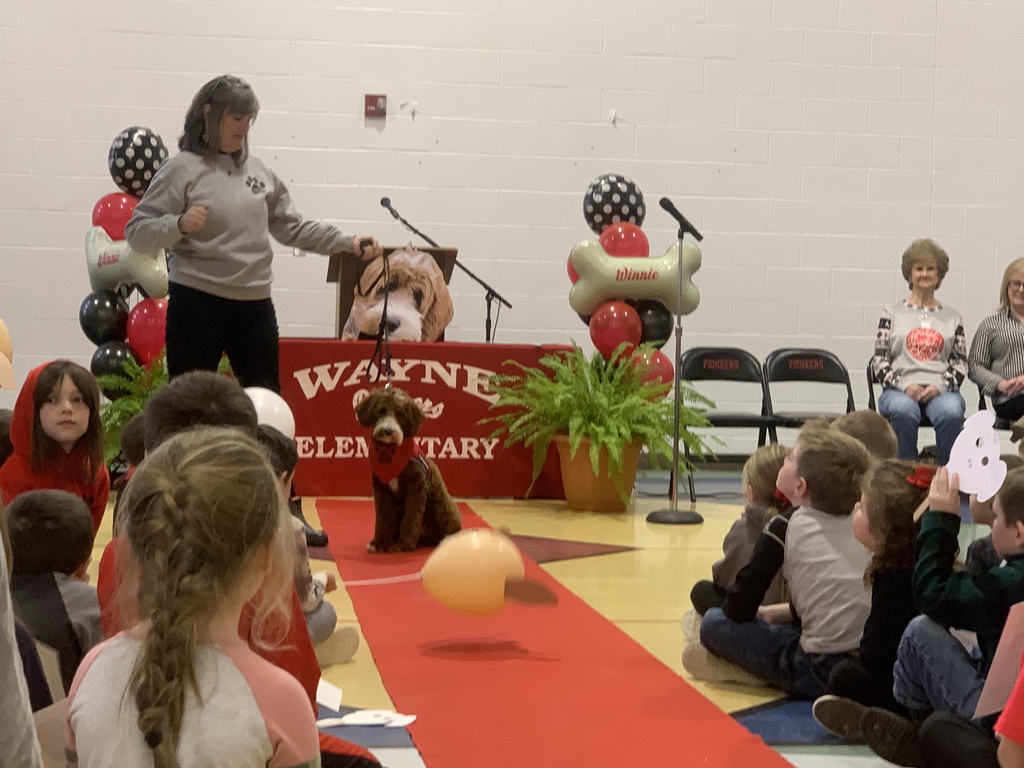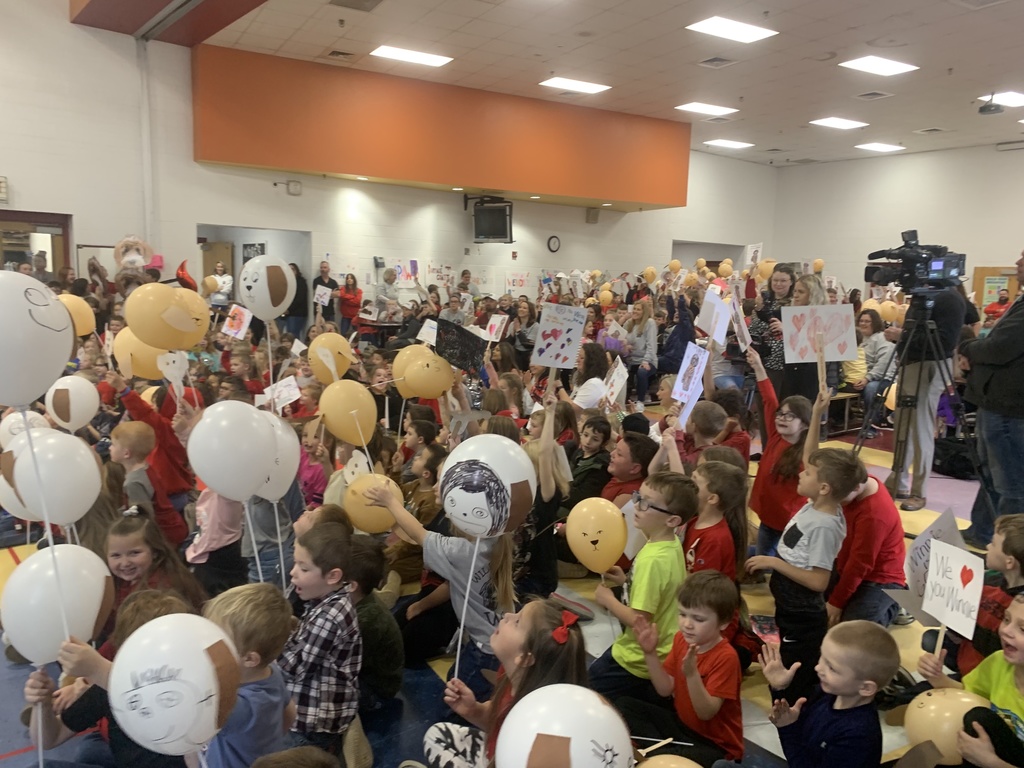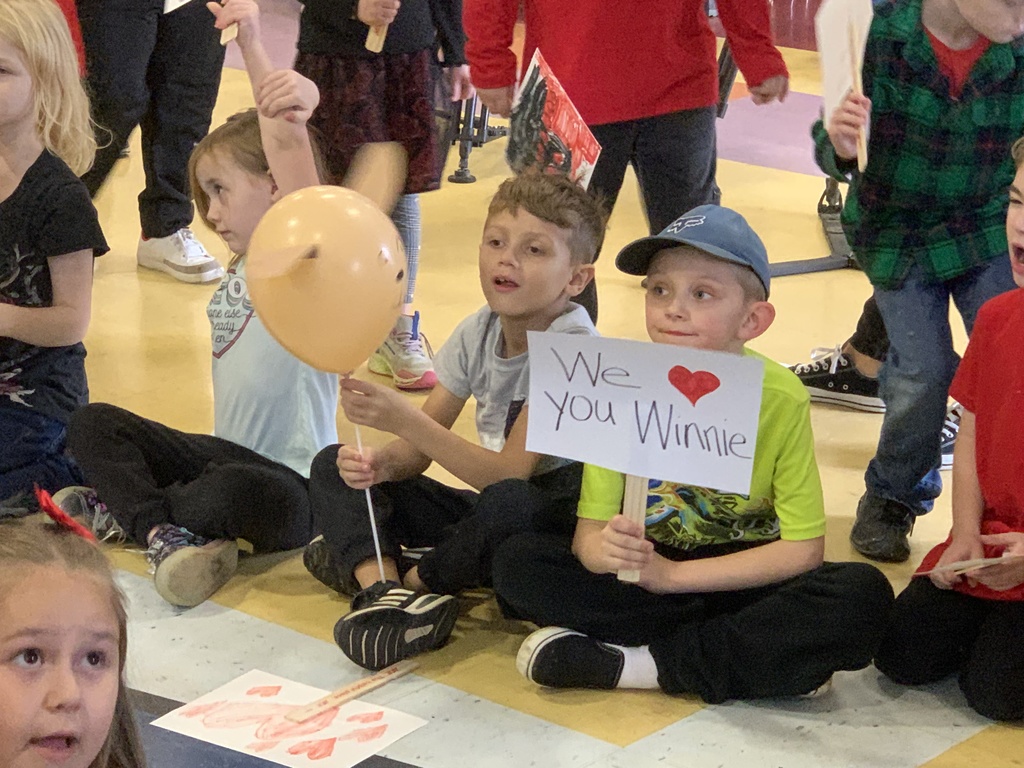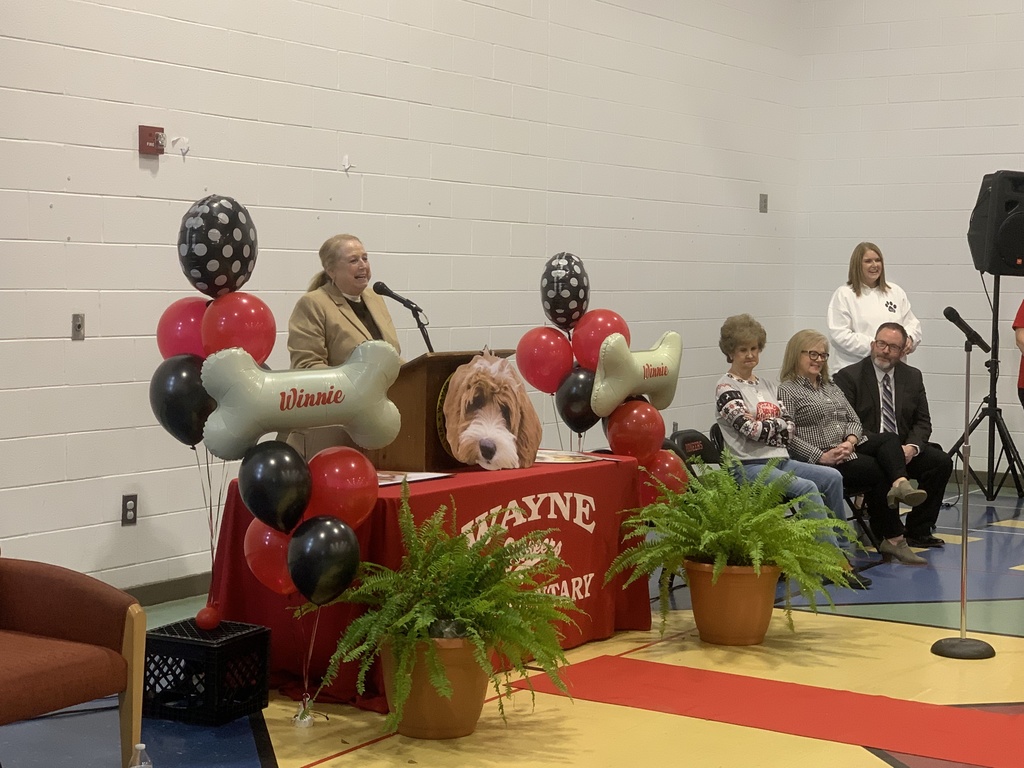 The Wayne County Pledge is back for the 2022-2023 school year. The Lewis Foundation doubled their donation this year, making $50,000 worth of scholarship money available to WCS. This year 25 8th graders and 25 9th graders will be awarded the scholarship. Follow the link to see a video about the scholarship, and check out our latest news story on the website to get an application started today!
https://www.youtube.com/watch?v=fs33FSQLVnc

The Wayne County Social Studies Fair is going on right now at Crum PK-8. We have over 100 entries this year, and the students have put together some great projects! Check back this afternoon to see who takes the top spots.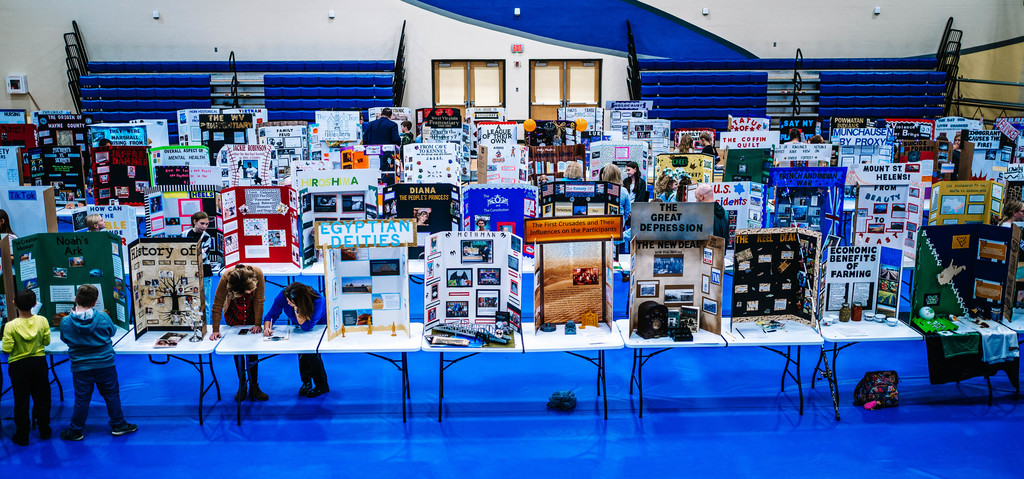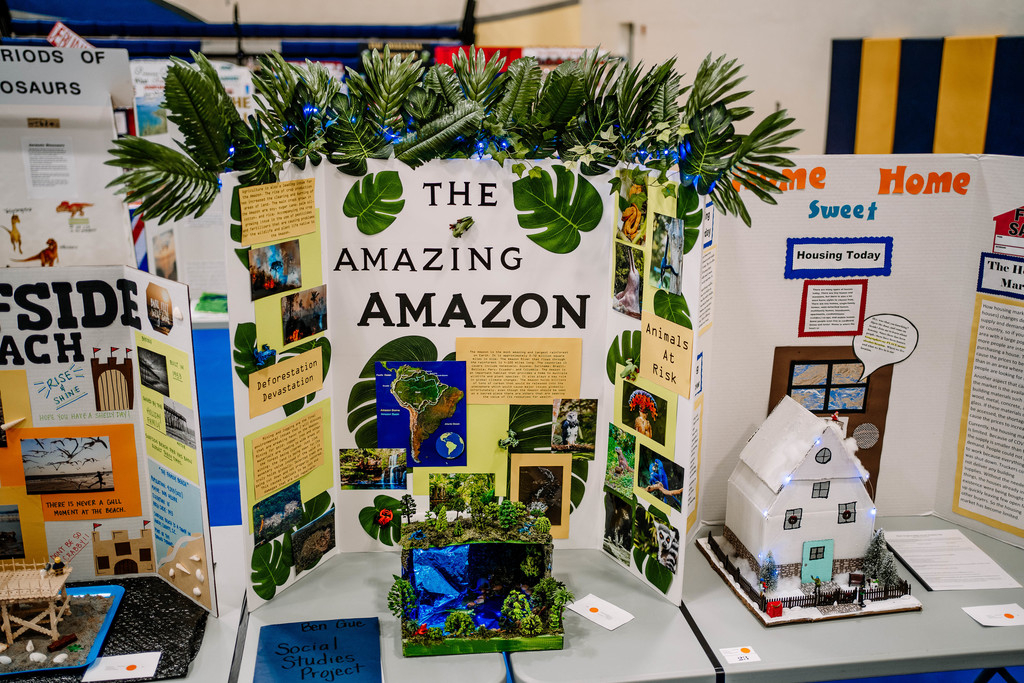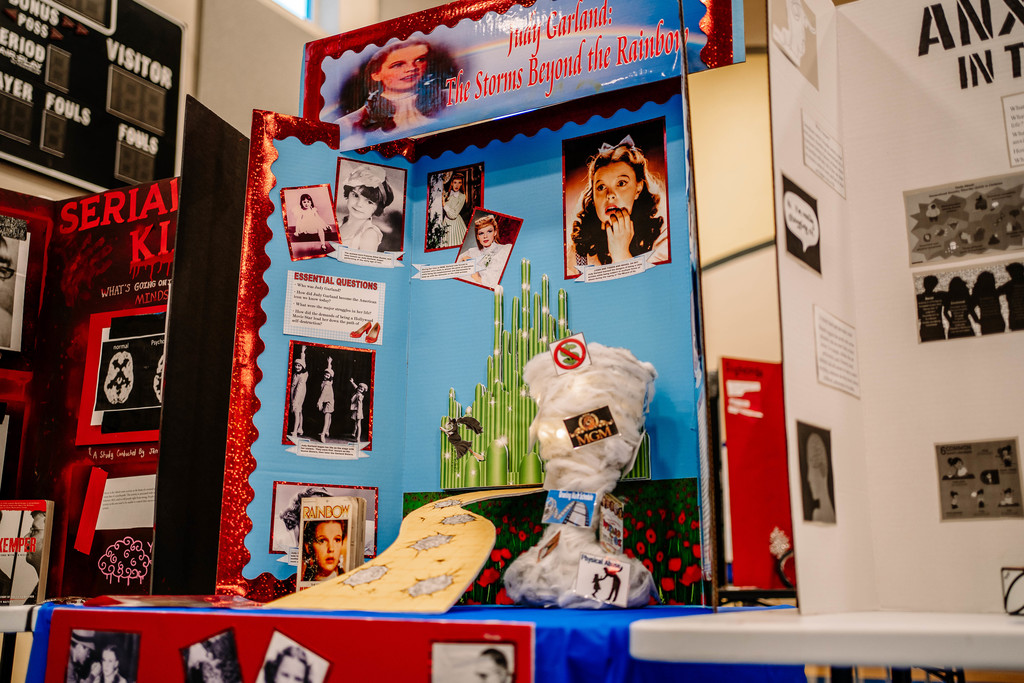 Second graders from Buffalo Elementary completed Pumpkin Book Reports. They chose a book, completed a book report, and made a pumpkin to look like a character from their story. They ended this project by presenting it to their class! Wonderful creativity on display from these students!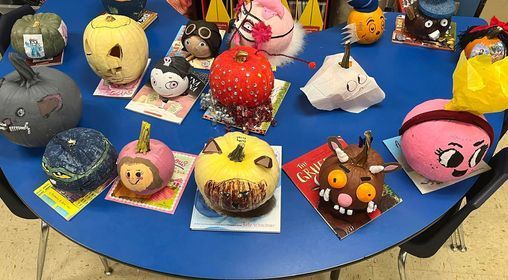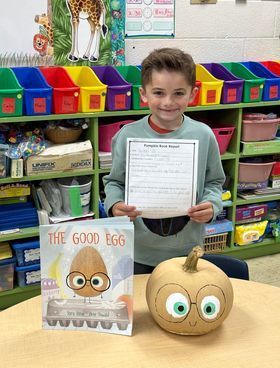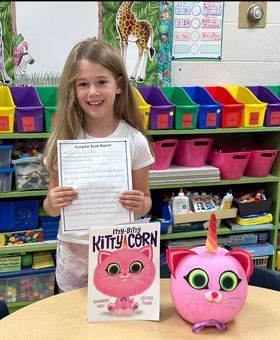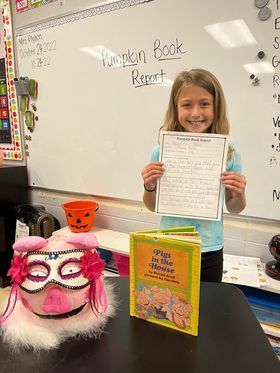 WCS employees are at the heart of our mission. Without them, we would not be able to accomplish our goals. These WCS employees were recognized at the board meeting this week for their hard work, dedication, and passion to Wayne County Schools. Thank you all!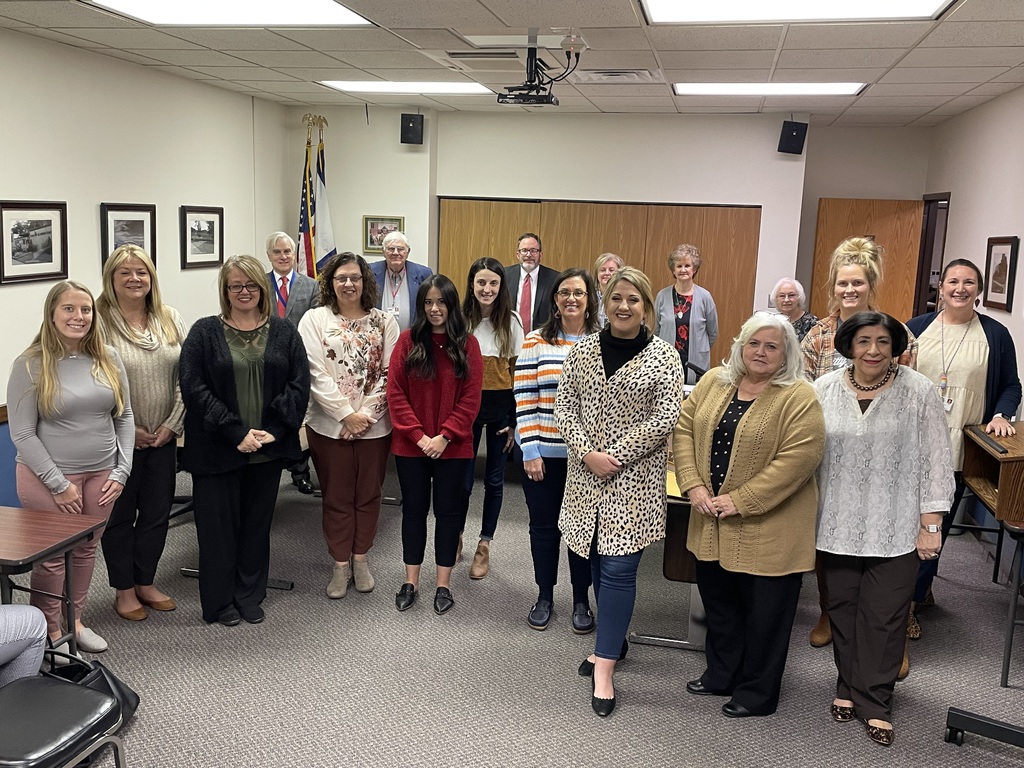 Wayne Elementary School 5th grade student leadership team members delivered homemade mats, gloves, scarves, and hats to the Harmony House in Huntington. The leadership team made an announcement to the student body asking for donations to help buy the gloves, hats, and scarves. They made signs and posted them throughout the school. They collected a grand total of $300. The mats are made from donated grocery bags that Mrs. Shreve knitted together to make mats for people to sleep on. Mrs. Criswell is the lead teacher of our student leadership team and orchestrated the entire project with the help of the students. WES is so proud of our team and entire student body!❤️🖤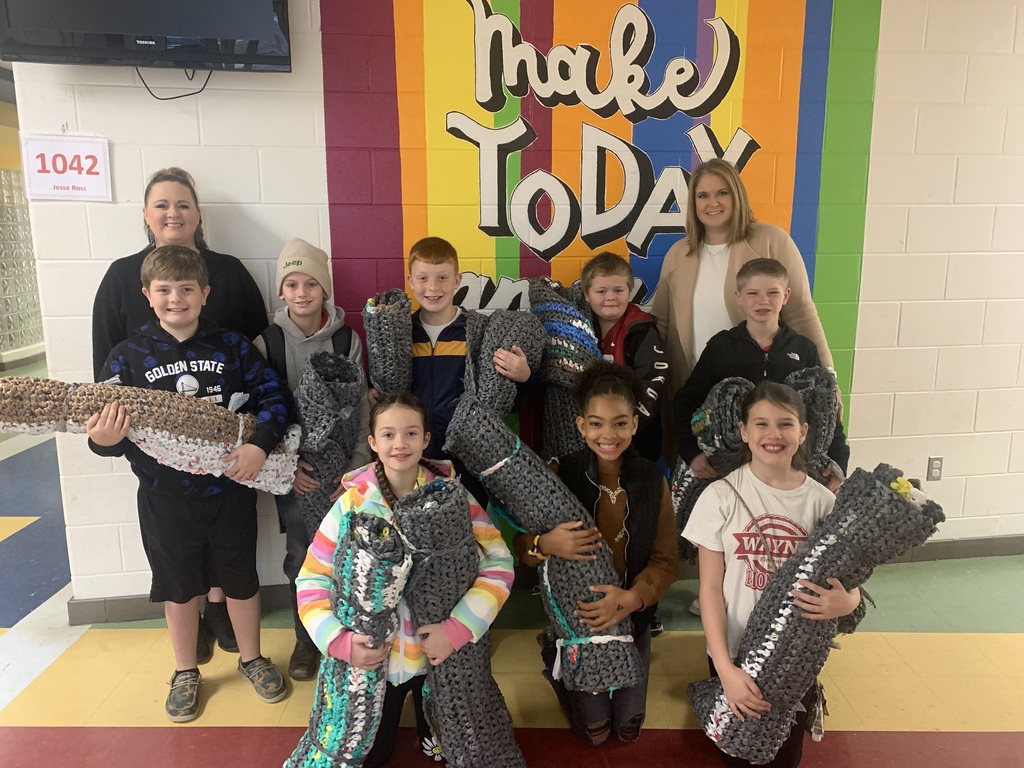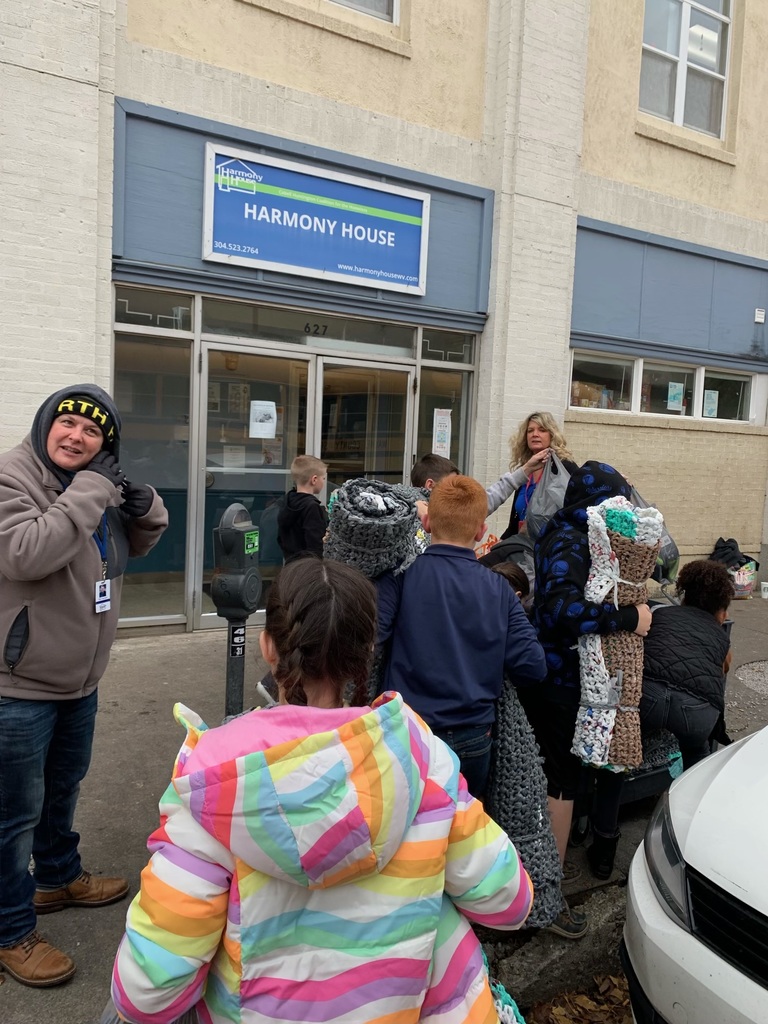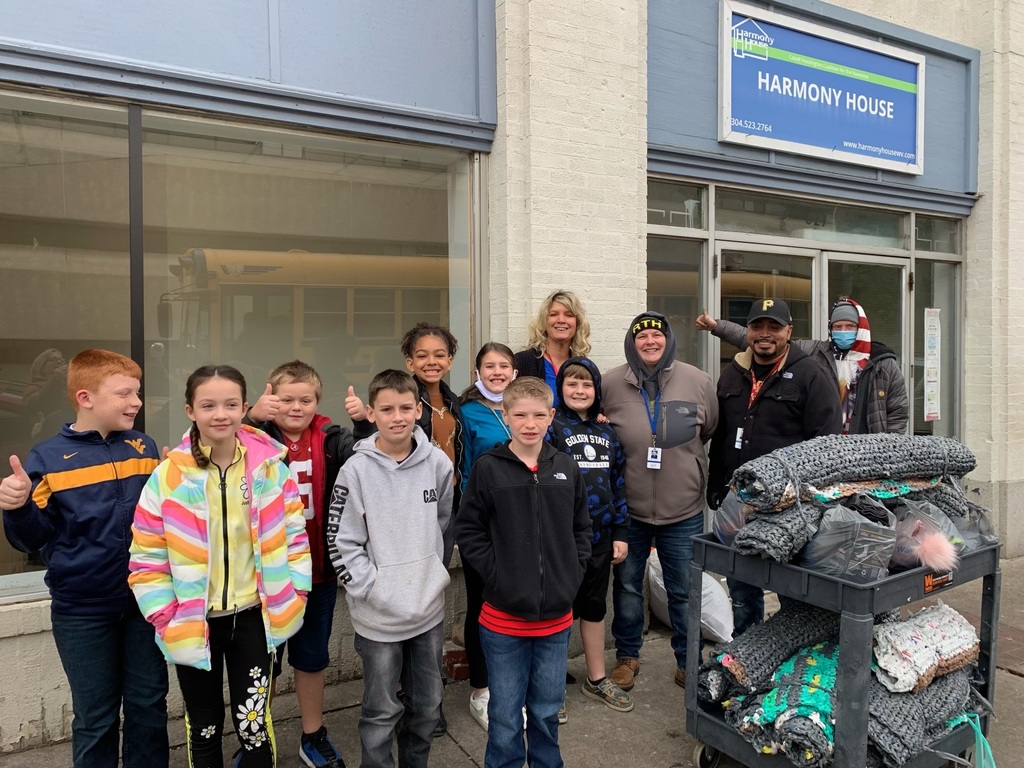 Wayne County Schools hosted its 1st VEX Robotics competition of the year at Fort Gay PK-8 before the Thanksgiving break. 39 teams from across the county are designing and collaborating to master this years VEX challenge. The following schools were represented at this competition: CK Elementary School CK Middle School Vinson Middle School Buffalo Elementary School Buffalo Middle School Lavalette Elementary School Wayne Elementary School Wayne Middle School East Lynn Elementary School Crum PK-8 Fort Gay PK-8 Prichard Elementary School Congratulations to all the students who participated in the 1st event of the year. The next VEX competition is December 17th at CK Elementary School!